Discuss in videos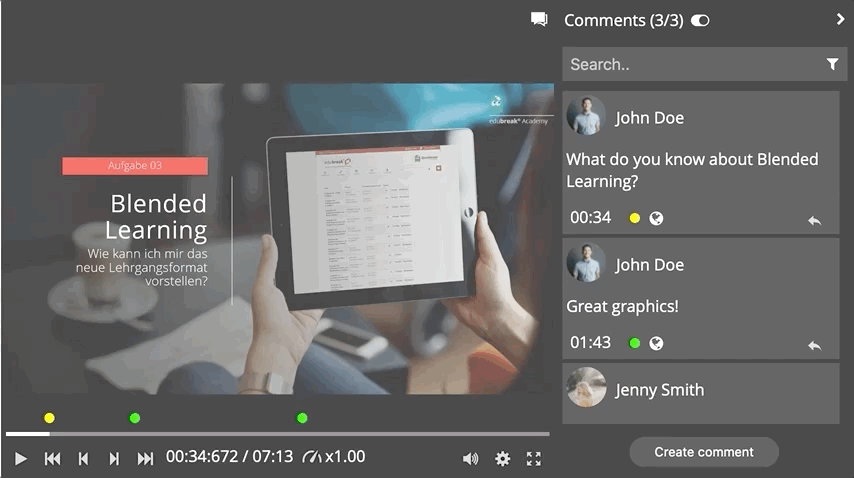 The key element of "Social-Video Learning" is the time stamp related discussion inside in a video within the learning group. Comments- and re-comments allow dialogues between the students.
---
Visual Marker
The commented sections are highlighted with coloured markers. With the markings in the traffic light colors, the comments can be coded according to the context. This allows you to see at a glance which parts of the video meet with particularly strong approval or rejection.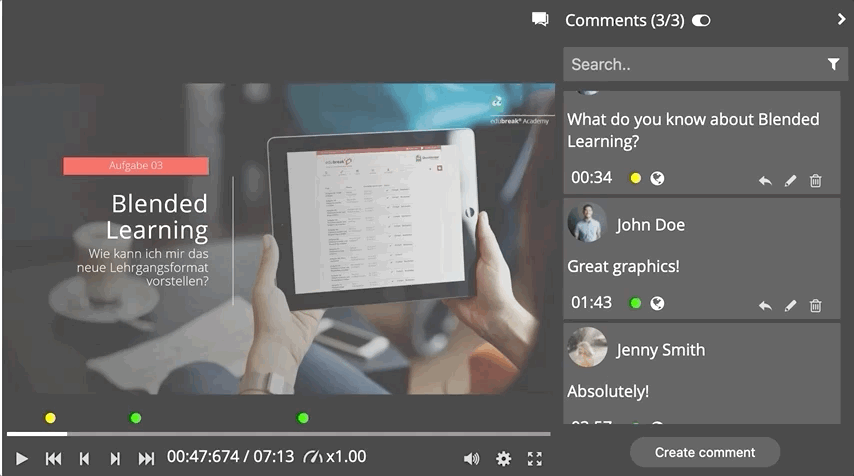 ---
Single-Choice Tests in video
In the video, you can use picture-related single-choice questions to test your learners' comprehension. Once you set a question, the video stops and learners cannot continue until the question is answered correctly. Learners interact directly with the video.
---
Interactive hotspots
With the IVS you can work directly in a picture. You create interactive hotspots in the video that are used to answer a question. Ask a question that can be answered by clicking on a predefined area. Example: At which position in the graphic is the relative optimum?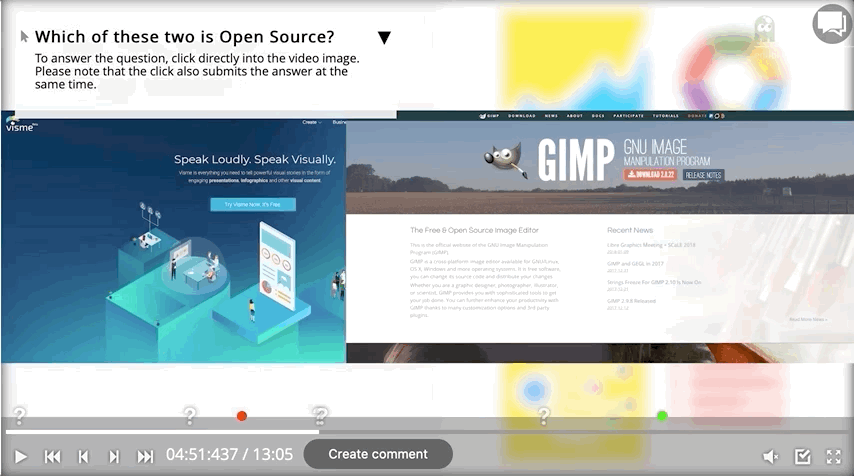 ---
Answer a question with instant video feedback
If you want to show the learners what the effects of a possible wrong behaviour would be, the playback paths will help you. Depending on the answer to a question, a suitable video sequence is shown to the learners. In this way not only is it learned whether an answer is wrong, but also why an answer is wrong.
---
Video editing
Small edits to the video can be easily made in the IVS. Add markers, text hints, pauses, slow and fast motion, and zoom effects to your video. This way you direct the learners' attention to the most important video content.
---
Reporting
Stay up to date on submitted video comments by e-mail. You set the frequency of the notifications and thus avoid to miss any conversations. At no time will your mailbox overflow. With the adapted reports, you will be able to follow important discussions at all times and stay updated as a lecturer.
You need further options?
It is part of the Ghostthinker® philosophy to develop new concepts and functions together with customers and cooperation partners. The financing model of development participation enables us to offer larger additional functions even at short notice. In concrete terms, this means that you as a customer and cooperation partner can initiate new developments through financial support and thus benefit from these new functionalities and modules very early on.
You would like to initiate a development of IVS? Please feel free to contact us!